Title
: Smile Like You Mean It
Author
:

hsbfc
Beta
:

elyxer
Chapter
: 19/20
Rating
: NC-17
Warnings
: mpreg, crack!fic, cross-dressing, squick,
Passions
inspired. So not everything has to make sense. And since COWLIP can make things up I don't see why I can't.
Summary
: It's all about decisions, and how they can change your life. This is an AU of my AU fic
The Perfidious Lover
. You don't need to have read it to get this though. Just know that Nathan is MINE! :) *sees Rena coming and runs for my life!*
Disclaimer
: QUEER AS FOLK is property of COWLIP and SHOWTIME. I own nothing.
Author's Note
: I don't know what made me write a fic about everything I normally try to avoid, but I just couldn't help it. No offense is meant to the people who LIKE to write serious mpreg fics. This is all in good fun.
Author's Note 2
: Remember…this is a CRACK!FIC and things are supposed to be cracky! So if things get a little odd…well, I'm coming up with ideas as I write. And things that seem ridiculous in this fic…well, just remember all the things COWLIP came up with!
Author's Note 3
: You MIGHT want to have a plastic bag or a trash can handy…in case you feel the urge to puke. Which you might later on in the chapter. *EVIL LAUGH* Longest chapter yet! OMG!
Status
: WIP
PREVIOUS CHAPTER
:
Chapter 1
|
Chapter 2
|
Chapter 3
|
Chapter 4
|
Chapter 5
|
Chapter 6
|
Chapter 7
|
Chapter 8
|
Chapter 9
|
Chapter 10
|
Chapter 11
|
Chapter 12
|
Chapter 13
|
Chapter 14
|
Chapter 15
|
Chapter 16
|
Chapter 17
|
Chapter 18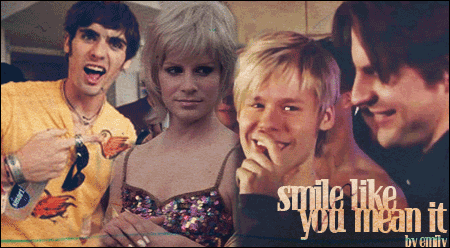 ( Chapter 19 )